Metalized Fabric Gaskets Types
2400 Series Metalized Fabric Gaskets
Do your products require a high-attenuation shielding? Our nickel-plated, RoHS-complaint metalized fabric-over-polyurethane gaskets are just what you need. Tech Etch's foam core gaskets are setting a new standard for EMI shielding. Bonding the substrate to the core ensures self-termination when cut and offers top-notch flexibility. Our product profiles have a compression set of less than 3%.
For easy installation, our stick-on mounting features double-sided, pressure-sensitive tape. Just apply on a clean surface and allow a full 24 hours for curing.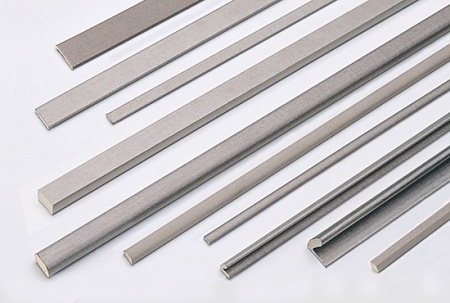 2600 Series Metalized Fabric Gaskets
In addition to our 2400 series, we also offer a 2600 version. Our custom shielding gaskets use metalized fabric wrapped around a polyurethane foam core where low-cost steel rule dies are used for cutting the fabric . The fabric is bonded to the core, to assure self-termination when needed.
These gaskets can be custom-cut to your specific shape and size. Be sure to consider the following when creating a design for your gaskets:
The minimum distance between any cutout to the edge should be equal to the thickness of the material.
The minimum hole diameters should also be equal to the material thickness.
The softness of the material will influence the dimensional tolerance.
D-Connector Metalized Fabric Gaskets
If you don't need a custom gasket, Tech-Etch can provide you with a standard D-connector gasket. These gaskets shield most 9-pin through 50-pin connectors. We offer 5 standard sizes and 4 different thicknesses for each size. Our gaskets are made of metal or conductive elastomers.