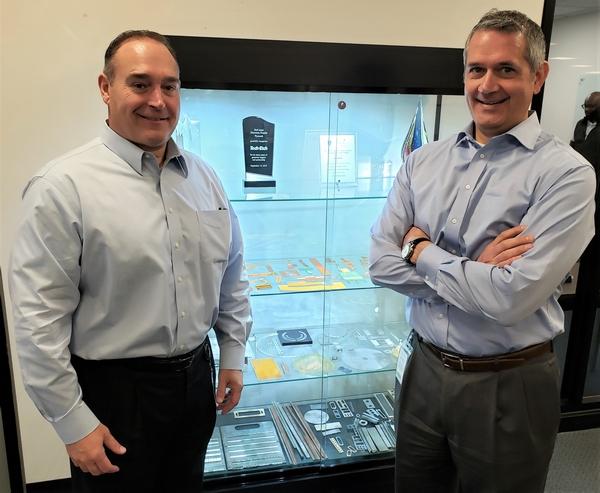 Tech Etch Management Spotlight: President & CEO Rich Cammarano
Tech Etch has spent the past 50+ years providing a wide array of engraving and etching services from their home base in Plymouth, MA. Today, the employee-owned company continues to provide solutions and services for the medical, aerospace, and military industries, among others. The future is looking bright for Tech Etch and its CEO, Rich Cammarano.
Cammarano has served as CEO of Tech Etch since 2018. Before coming to Tech Etch, he was the Chief Commercial Officer at Facet Technologies, a medical device manufacturer in Atlanta, GA. Cammarano has also served as Senior Director and Vice President at Flex, an electronic manufacturing company based in Singapore. He holds a Master of Business Administration degree from Boston University's Questrom School of Business.
Cammarano brings a wealth of knowledge and experience to a company with its own rich history. Tech Etch began in the 1960s when George Keller opened a small engraving business. Over the years, Keeler would grow his business through quality products and customer service. By the late 1990s, Keeler's company would acquire other etching and engraving businesses to become Tech Etch, a leading provider of electrical components for a variety of uses.
Today, Tech Etch creates EMI/RFI shielding, flexible printed circuits, rigid flex circuits, and Precision Parts. The company's products are primarily used by the healthcare industry in devices such as pacemakers and patient monitoring equipment. Tech Etch also manufactures parts for devices used by the military, technology, and the aerospace industry. As one of the largest chemical etching companies in the world, Tech Etch is committed to providing its customers with precision products that are unparalleled in quality.
Serving as the CEO of a company like Tech Etch is a big responsibility, and Cammarano understands the need to work with and work for his employees. At Tech Etch, the employees are also owners of the company.
In 1999, Tech Etch implemented an Employee Stock Ownership Plan (ESOP), allowing employees to invest in the company and become part owners. By the mid-2010s, George Keeler retired and gave 100% ownership to his employees through the program. Today, Cammarano and other top leaders at the company work with the employees to ensure the organization's continued success.
ESOP companies have been known for their higher rates of productivity and employee happiness. When employees own the business, they work for, they have a vested interest in the success of the company. Businesses of all kinds have turned to the ESOP model with great results.
Cammarano understands the importance of the value Tech Etch employees offer. In his previous positions, he has led by creating value for both clients and employees. Wherever possible, keeping all parties pleased has proven to be a winning strategy for long-term success.
As CEO of Tech Etch, Cammarano has a lot to manage. The company owns three large production facilities across the country. The Plymouth, MA headquarters is a 150,000 square foot facility, including the newly built 3,700 sq ft Innovation Center. Tech Etch also owns another facility in Fall River and a third location in Litchfield, MN.
Tech Etch offers several different parts for a wide array of products. The company provides metal stamping, photoetching, production heat trading, tool-and-die making, welding, soldering, flexible-circuit design and production, laser cutting, and metal finishing. With quality leadership driving the business, Tech Etch plans to continue offering these and many more products to their customers.
Cammarano will carry on Tech Etch's mission to inspire, create, and provide innovative solutions that enhance lives globally. The organization prides itself on four major points of distinction: Employee ownership, high-quality products, a culture of innovation, and exceptional customer service with unbeatable lead times. All of these points will continue to be high priorities for Tech Etch.
Just as important as satisfying employees and customers, Cammarano understands the value of being a major part of the community. Tech Etch has donated millions of dollars over the years to a variety of local nonprofits throughout the communities each facility is located in (Plymouth and Fall River, MA and Litchfield, MN). One of their largest donations has been to the Beth Israel Deaconess Hospital-Plymouth in which the hospital dedicated the Medical Imaging Center to Tech Etch. Cammarano plans to continue Tech Etch's tradition of community involvement.
Tech Etch is proud to be able to make substantial donations to good causes, as well as serving as a positive workplace in the Plymouth area. They are the second-largest employer in the town with approximately 500 employees at that location.
Since 2018, Cammarano has proudly served as CEO of Tech Etch and knows that the company can continue to be a major force in the electronic manufacturing industry. He has confidence that the company will continue to provide clients with the best products and services needed. Over time, the company expects to continue expanding with larger facilities and more product offerings.
The future of Tech Etch looks very bright, and CEO Rich Cammarano is proud to lead the company into its future. He is ready to help the company continue to live out its goal of innovating a better world, one part at a time.
Watch our Spotlight Video on Rich!