Discover Our Material Options For Precision Parts
Different parts call for different materials. When you work with Tech Etch, you can get the mechanical or electronic parts you need, made out of the best materials for the job.
We specialize in photo etching (also known as photochemical milling) using materials like tungsten, Elgiloy™, nitinol, molybdenum, titanium, and Kapton® (polyimide film). These materials are especially useful in the medical industry for cathodes, springs, implants, blades, and stents. Our parts can be manufactured as thin as .0005 inches.
Our team can also photo-etch parts with other metals including copper alloys, beryllium copper, stainless steels, aluminum, nickel and nickel alloys, silver, and spring steels.
Photo etching is a great way to go about creating parts out of metal. The process offers:
Flexibility in manufacturing small and large quantities
Low cost due to lack of need for expensive tooling
Quick turnaround times from design to production
Aside from photo etching, we offer laser cutting, forming, plating, laminating, and stamping or thicker metals.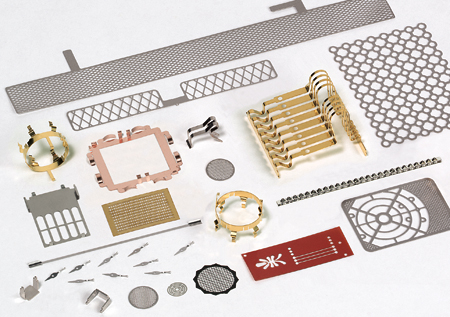 Tungsten is 71 percent heavier than lead and therefore is very useful in a wide range of medical uses. Tungsten has become a go-to metal for:
Collimating and attenuating stray x-rays in CT scanners
Creating ID tags used in implanted medical devices
Providing filaments in vacuum and x-ray tubes
Functioning as heating elements and nozzles
As a refractory material, molybdenum is ideal for high temperatures and corrosive environments.
One of the toughest metals out there, titanium is lightweight and highly resistant to corrosion. It can be used in everything from eyeglass frames to jet engines. Titanium is inert and biocompatible, making it perfect for use in a variety of medical applications, such as maxillofacial and craniofacial reconstruction plates. It's also a useful metal for anode and cathode battery current collectors and telemetry antennas.
We can create a wide range of products out of titanium, customizing the parts to your specifications.
When you need a material that is very highly corrosion resistant and is strong against fatigue, Elgiloy™ is the best option. This metal is commonly used in medical implants, and Tech Etch can create the pieces you need for your specific use.
For high-temperature environments, you can't go wrong with Kapton®. This material shows good physical, chemical, and electrical properties when exposed to a wide variety of temperatures, including extreme heat.
Tech Etch uses photo etching to make flat parts for a wide range of applications, including screens, gaskets, washers, insulation layers, and more. Kapton® is a registered trademark of Dupont.
Niobium offers corrosion resistance under high temperatures. It's a lightweight, refractive material that is ductile and easily formed.
If you need a shape memory alloy, Nitinol is a great option. As the "memory foam" of the metal world, its unique characteristics allow it to return to its original shape after deformation. This material has high corrosion resistance and excellent biocompatibility, as well as good spring characteristics.