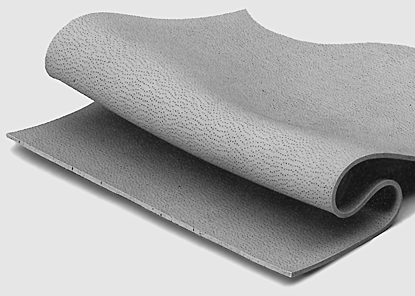 General Information
Many products require connector EMI shielding gaskets, and Tech Etch offers a wide range of standard gaskets for your needs. We also create custom cuts if needed.
At Tech Etch, we're dedicated to providing as many options as possible for our customers. That's why we offer Monoshield, Multishield, Supershield, and other levels of shielding products and materials. Take a look at our offerings below:
Our supershield provides a very high EMI shielding and an environmental seal. It's made of a silicone elastomer filled with conductive metal particles. The supershield family of materials uses 8 specific conducting media: Carbon, nickel graphite, low-density silver, silver nickel, silver aluminum, silver-plated glass, pure silver, and silver-plated copper.
We offer durometers ranging from 40 to 80. The material specifications may vary at other durometers outside of this range. We sell our 1000 series supershields in a variety of sheet sizes, as well as custom-cut gaskets.
Another of our composite materials for EMI shielding, our 4000 series is made with a matrix of wires embedded into silicone rubber. It's available in strips of up to 5/8" wide, sheets up to 9" wide, standard gaskets, and custom gaskets. Like our other products, the 4000 series carries an efficient environmental seal.
The multishield can be bonded to sheet metal using RTV 3145, 3M 9472, or equivalent adhesives. Custom gaskets can be made out of sponge or solid multishield using rule dies. We recommend a compression range of 5-10% for solid materials and 20-25% for sponge materials.
If your gasket is limited to 0.02 inches in thickness, the 5000 series monoshield is for you. This material consists of Monel™ or aluminum which is expanded and filled with a 50-durometer silicone rubber. This creates about 225 points of contact per inch for a very efficient EMI shielding and a pressure seal good up to 50 PSI. The material can also be provided without silicone impregnation.
Note: The 5000 series should not be reused after compression.
Specifically, Monel is the trademark name for a series of alloys mostly made up of nickel and copper, with some iron and other trace elements. Monel alloy 400 exhibits the same proportions of nickel and copper, found naturally in the nickel ore from certain mines. Other grades of Monel include 401, 404, K-500, and R-405. The additions of other metals and slight changes in characteristics are what differentiate these grades; K-500, for example, includes small additions of aluminum and titanium.
Monel is known for its corrosion resistance, but the specific properties and applications of each type vary:
Monel 401 – Often used in electrical and electronic applications, it has a very low temperature coefficient of resistance.
Monel 404 – Its composition is specifically adjusted for low temperature, low permeability, and good brazing. It is often used for electronics due to its low permeability.
Monel R-405 – This alloy includes a controlled amount of sulfur, which provides sulfide inclusions that act as chip breakers during machining. It is often used for screw-machine products, fasteners, and valve parts.
Monel K-500 – This alloy has the same corrosion resistance as Monel 400, but with even greater strength and hardness. Like Monel 404, it has low permeability. It is often used for oil well tools, instruments, pump and marine propeller shafts, doctor blades, scrapers, and more.
Tech Etch offers a weaveshield composite gasket material for very small gaps that have an unevenness of no more than 0.002 inches. The material features a woven aluminum screen that is impregnated with silicone or neoprene elastomer. We recommend a closing force between 70 PSI and 110 PSI to get a moisture seal. Under the right circumstances, a pressure seal is possible.
The material can be provided in die-cut gaskets or sheets.