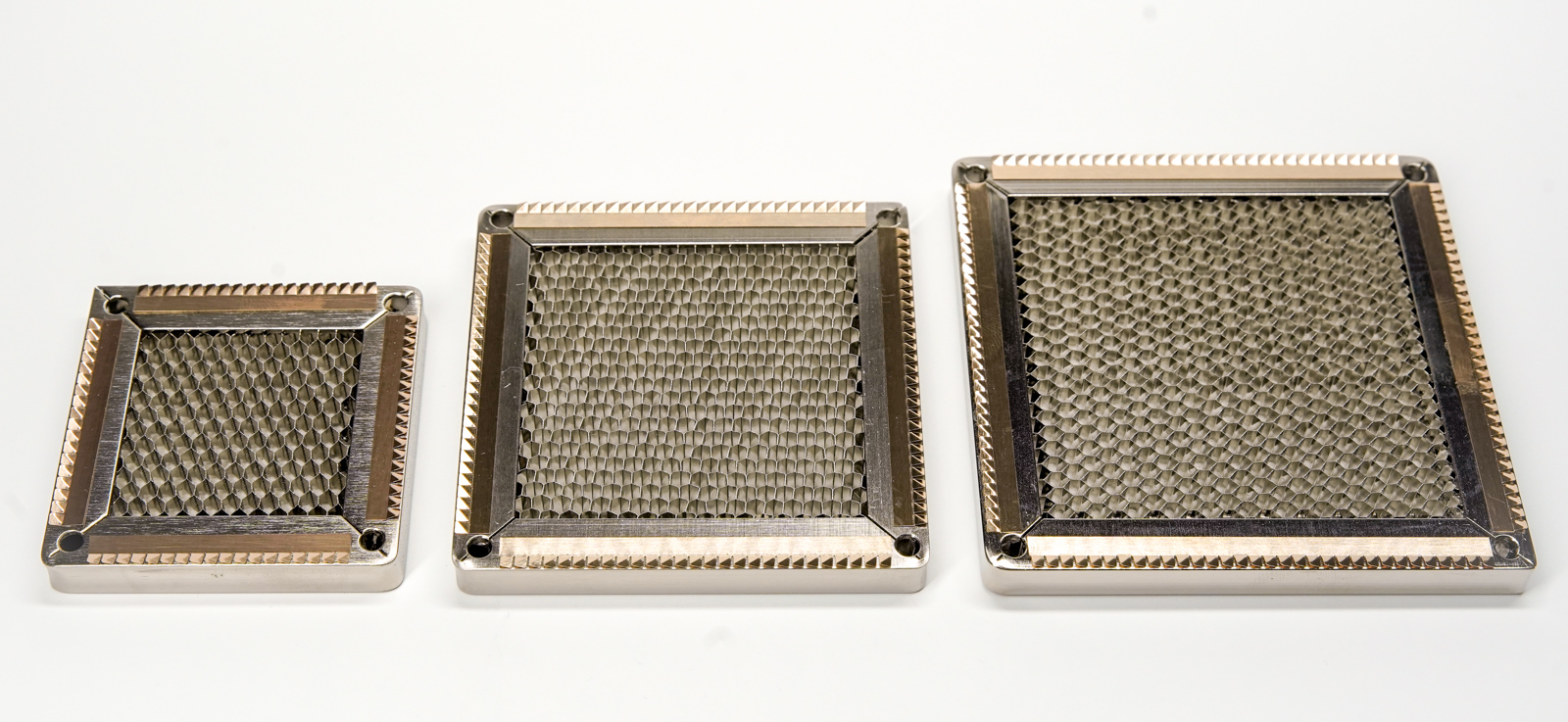 We offer a range of vent filters for various uses and a variety of industries. Our aluminum alloy, neoprene sponge, and other materials provide durable and long-lasting results for your vent filtration needs.
Contact us today for information on the different types of vents & filters we offer:
Series 8000 Honeycomb Vents
Series 8200 Shielded Fan Vents
Series 8300 Quiet Vents
Series 8500 Shielded Filters
Series 8900 Thin Screen Filters
Specifications
Extrusion
Aluminum Alloy 6063-T1 QQ-A-200/9
Filter Media
Aluminum Alloy 5056, per RR-W-365
Honeycomb
Aluminum Alloy MIL-C-7438
Grilles
Aluminum Alloy 3003-H-14 per QQ-A-359
Finish
Chem Film to MIL-DTL-5541 Class 1A (Standard)
Also available: Bright Tin, Electroless Nickel or Chem Film – Class 3
RFI Gasket
Mesh (Monel, T.C.S., or Al), BeCu, Metalized Fabric
Twinseal
Neoprene sponge .093″ Thick to ASTM D6576, Type II, Grade A (Formerly MIL-R-6130)
EMI SHIELDING PERFORMANCE & AIRFLOW CHARACTERISTICS
Click on the Series Tab to view performance and airflow data for that particular part.
8000 Series Honeycomb Vents & 8300 Series Quiet Vents
EMI Shielding Performance & Airflow Characteristics
1/8 Cell Size, 1/2 Thick
Standard Honeycomb Finish

H-Field

E-Field

Plane Wave

100kHz

10MHz

1 GHz

10 GHz

Chem Film
Tin
Nickel

40 dB
70 dB
75 dB

75 dB
125 dB
130 dB

60 dB
100 dB
115 dB

40 dB
80 dB
95 dB

Cross-Cell Honeycomb Finish

H-Field

E-Field

Plane Wave

100kHz

10MHz

1 GHz

10 GHz

Chem Film

60 dB

105 dB

90 dB

80 dB
8200 Series Shielded Fan Vents
EMI Shielding Performance
1/8 Cell Size, 1/4 Thick
Honeycomb
Finish

E-Field


Plane Wave

10MHz

1 GHz

10 GHz

Chem Film


70 dB

50 dB

30 dB
8500 Series Aluminumm Mesh Shielded Air Filters
EMI Shielding Performance & Airflow Characteristics
Finish

H-Field

E-Field

Plane Wave

100kHz

10MHz

1 GHz

10 GHz

Chem Film


50 dB

80 dB

55 dB

40 dB
8900 Series Thin Screen Shielded Air Filters
EMI Shielding Performance & Airflow Characteristics
Airflow Characteristics – Based on 20″ x 20″
Finish

H-Field

E-Field

Plane Wave

100kHz

10MHz

1 GHz

10 GHz

Chem Film


45 dB

85 dB

55 dB

40 dB