Tech Etch is mission-driven. We do not limit our innovative solutions. Our mission is to inspire, create, and provide innovative solutions that enhance lives globally.
Environment, Social, and Governance (ESG) is an important recognition of our responsibility to passionately live our values inside our walls and around the communities we all call home. These ESG efforts, combined with the passion of
our employee-owners, help drive our ability to enhance lives globally.

Tech Etch is committed to providing clear and consistent communications on our progression against short and long-term ESG strategies and goals. Our ESG achievements are proudly shared with our employee-owners, partners, and communities.
Our Approach
We believe Tech Etch can enhance lives globally through our focus on
continuing and developing ESG efforts with the opportunities to drive the most positive impact to our workforce, communities, and the planet.
Our ESG history and approach is rooted in our values. It has always been our natural approach to operate responsibly and make our impact. We do so by implementing our seven core values: Commitment, Innovation, Respect, Community, Quality, Integrity and Teamwork. To support our commitment to a better world, we align our Values with our involvement in the Responsible Business Alliance (RBA) and United Nations Global Compact (UNGC). This foundation empowers our employee-owners to display our culture of excellence and prioritize specific United Nations Sustainable Development Goals (SDGs) where we can make the greatest impact.
Supporting the Advancement of
Sustainability Globally
Tech Etch is an affiliate of the Responsible Business Alliance (RBA), the world's largest industry coalition dedicated to corporate social responsibility in global supply chains.

We support the vision and mission of the RBA, its Code of Conduct, and the collaborative approach to improve working and environmental conditions and business performance through leading standards and practices. Our Code of Conduct aligns with the RBA and its objectives.
Contributing to the UN Sustainable
Development Goals
The UN Global Compact (UNGC) is a strategic policy initiative with over 9,500 corporate participants and other stakeholders from over 160 countries. It is the largest voluntary corporate responsibility initiative in the world. Tech Etch supports their call for companies to align their operations and strategies with the Ten Principles in the areas of human rights, labor, environment and anti-corruption, and to take strategic actions to advance broader societal goals, such as the UN Sustainable Development Goals (SDGs).
The UN Sustainable Development Goals (SDGs) call on businesses to apply innovation to solve issues impacting peace and prosperity for people and the planet. Tech Etch has answered this call and developed internal goals inspired by and aligned to the SDGs. Learn about our contributions to the SDGs in our ESG Executive Summary Report.
While our efforts contribute in some way to most of the UN SDGs, we drive progress by prioritizing these five goals: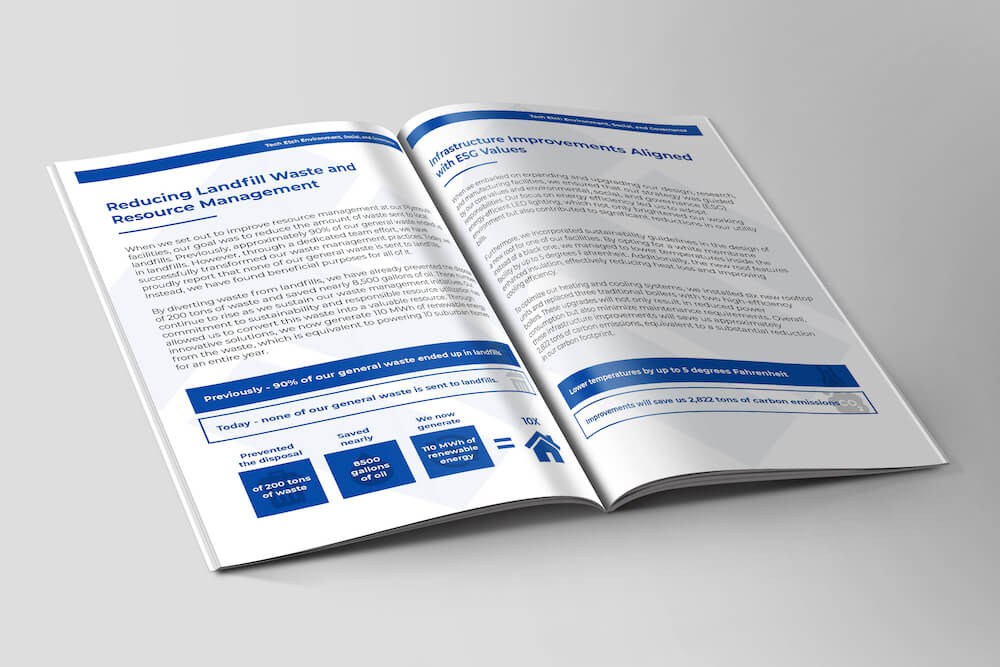 Dive deep into Tech Etch's groundbreaking ESG initiatives and results. Download our whitepaper now and discover how we're actively sculpting a sustainable future!
Teamwork & Diversity
Our employee ownership is Tech Etch's most valuable
resource. It is our spirit that drives Tech Etch towards
excellence and allows us to develop meaningful, long-
term partnerships with the industry leaders we serve.
As employee-owners we are empowered to make
decisions to better serve our customers, communities,
and one another resulting in long-term success.
Respecting Our Environment
To ensure our lasting ability to enhance lives globally
we must protect the globe we live on. We invest in
sustainment efforts to reduce risks to the
environment. We are proud of the recycling and waste
reduction efforts championed by employee-owners,
as well as, innovation of solutions with clean-energy
technology leaders.
Committed to Our Community
Tech Etch is committed to our local community
through partnerships and volunteerism that help
drive us towards a more equal and equitable future.
We strive to connect deeply with the communities we
live and work. It is our responsibility to make the world
a better place one part at a time.
Innovating Sustainable Services
We are dedicated to enabling the ESG visions of our
partners along the value chain. Our innovative
solutions enable our customers to meet their
sustainability goals in ever-expanding ways.
We have had the privilege to work with our customers
on emerging technologies such as hydrogen fuel cells,
connected medical devices, and the latest generation
of satellite internet.
Environment Policy (Coming Soon)
Equal Employment Opportunity
Policy (Coming Soon)