Tech Etch offers board-level shielding products to ensure proper EMI shielding. We can make standard or customized shields through a photo etching process. These boards are typically etched from .007" to .020" brass, nickel silver, copper, or cold-rolled steel materials. We also offer beryllium copper when flexibility is required. Tin-plate finish is standard but other finishes are available.
If you need shield heights as low as .060", our low-profile, 2-piece SlimShield is an option. It features a dimpled cover which snaps into etched holes on the fence.
Here are just a few benefits of getting photo-etched board-level shielding from Tech Etch:
No need for expensive forming tools
Enjoy improved design flexibility
Holes and slots provide heat dissipation
Intricate geometry can be achieved easily
Mounting pin styles are available in any configuration
Internal dividers offer multicavity applications
Get etched logos at no additional charge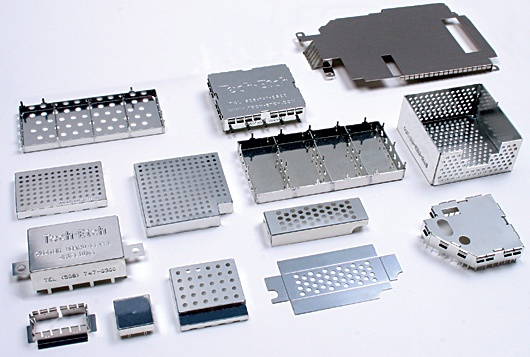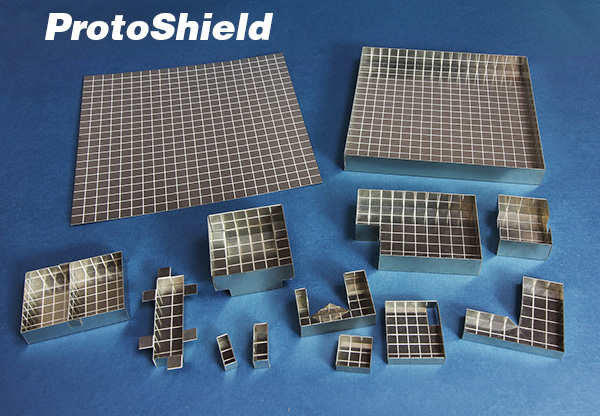 New Protoshield sheets can be formed into Board Level Shielding prototypes in minutes
Because the ProtoShield sheets are depth etched, they can be easily changed into a variety of configurations. The checkerboard pattern makes it easy to create the configuration you need as you design your products.
Our ProtoShield sheets come in two sizes, featuring .25" squares or 5mm squares. Both are corrosion-resistant and solderable. No finishing or plating is required, and prototypes can be soldered right onto the board.
Download interactive sales drawing PDFs that let you design your own standard 1-piece, 2-piece, or SlimShield board level shields. Fill in your required dimensions and choose surface or through hole mounting. Then choose materials, finish and other options.