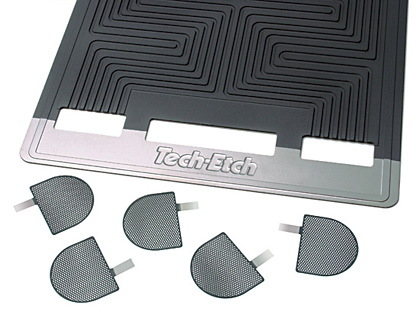 Robotic Spray Coating Process Applies Conductive Coating to Fuel Cells, Battery Grids and other Energy Storage Devices
If you need battery grids created, you need them coated properly with a conductive coating, too. Tech-Etch has a specialty system that makes the process easy.
Our robotic spray coating system ensures an even and uniform coating for your product. The coating equipment can be used to apply epoxy or water-based coatings onto:
Fuel cells
Battery current collectors
Energy storage devices
Conductive coatings make battery performance better due to improved electrical contact between the materials within a device. This provides users with extended battery life. These coatings also improve corrosion resistance which improves the longevity of the device.
An even and uniform coating is required for maximum effectiveness. Our robotic equipment uses an articulated head to ensure that every inch and every corner is properly covered with the conductive coating.