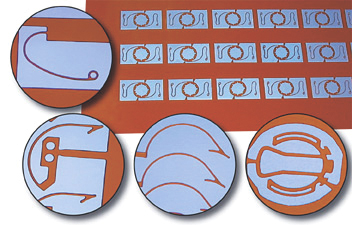 Photo Etched Polyimide Films
Polyimide Film is a great material for insulation of wires among other common uses in electronic devices. Tech-Etch offers photo etching of polyimide film for use as washers, screens, gaskets, insulation layers, and more.
Photo etching offers low tooling costs, very quick turnaround, and the ability to change the design without issue. Our film is usually made of .001", .002", .003", and .0005" Dupont KAPTON® or a similar material. Often used in corrosive environments, our polyimide film offers great physical, chemical, and electrical properties in a variety of situations.
Polyimide parts offer limited spring properties and good durability. Photo-etched bend lines are also used for 3D forming of parts.
Photo-etched polyimide IOL Haptics
Since 1978, our team has photo-etched precision haptics for intraocular lenses that are used in cataract surgery. Polyimide has many characteristics that make it a great option for this procedure. Some of these characteristics include:
The advantage of a 3-piece IOL
Foldable IOL silicone or acrylic lenses
Flexibility compared to polypropylene and PMMA
Improved tensile strength
Superior shape memory
As polyimide is safe as an implant, it can be used for a wide range of medical procedures beyond cataract surgery.