Tech Etch is known for a variety of solutions and services for nearly every industry out there. We utilize advanced manufacturing processes and work with global distributors to provide clients with the solutions they need for their businesses. Working with our distribution partner Heilind, we can quickly ship many of our top EMI (electromagnetic interference) and RFI (radio frequency interference) shielding solutions to anywhere around the globe quickly and easily. All you need to do is go online and order. That simple.
Check out a selection of the top Tech Etch EMI & RFI shielding solutions you can get while browsing Heilind now!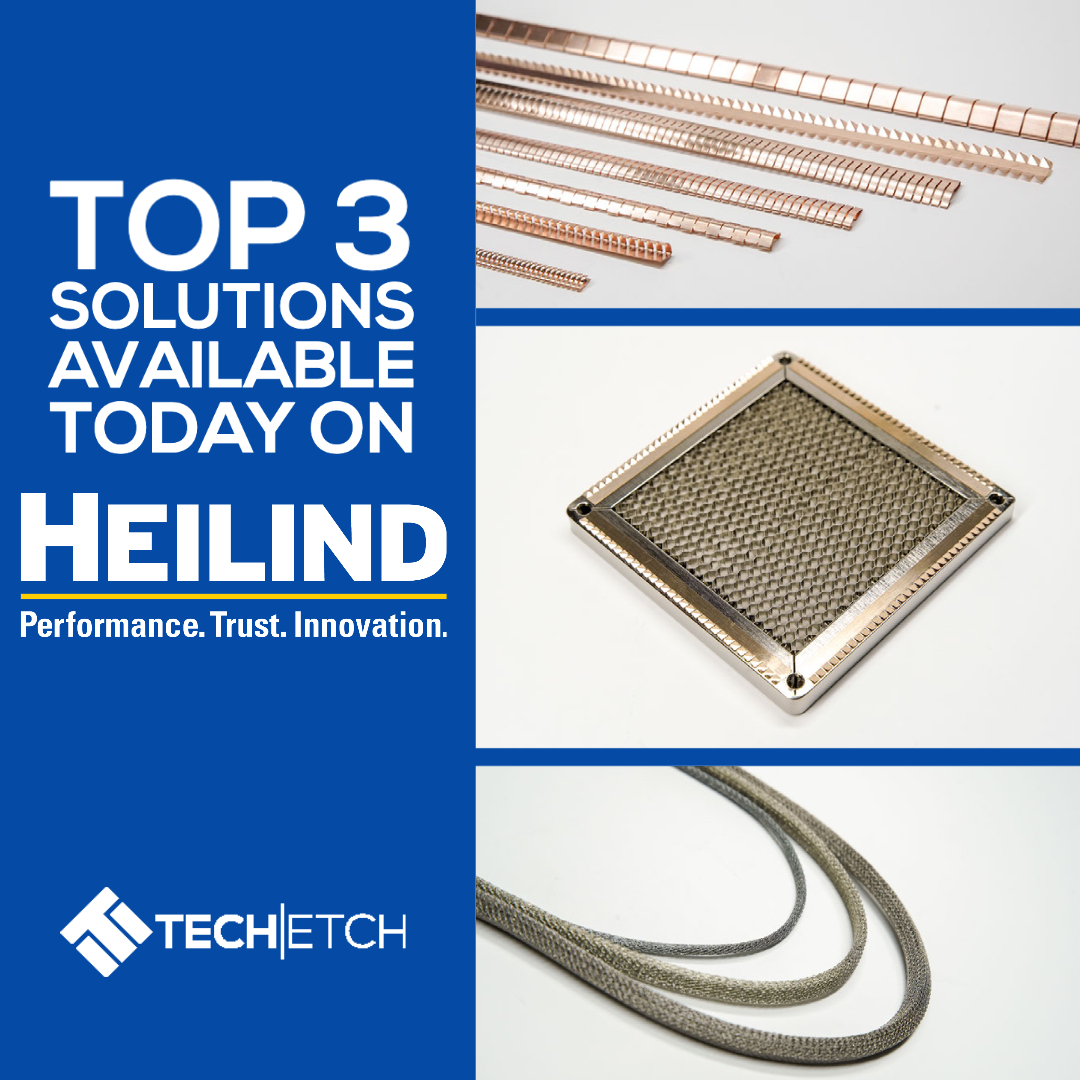 Fingerstock Gaskets
Fingerstock gaskets are a component that is found in many electronic devices today. These components provide crucial protection for equipment in almost every industry. Tech Etch produces shielding strips that are RoHS-compliant in a range of lengths and cross sections. Our fingerstocks come in continuous coils up to 35 feet long and range in length from 16 to 24 inches. The smallest gaps in a device can be filled with our uncompressed fingerstocks, which can be produced in sizes ranging from.03 inches to.44 inches. With two different materials from which to choose, Tech Etch can make fingerstocks out of stainless steel and beryllium copper. Our team can also produce prototype shielding designs as needed.
Vents
Most electronic equipment and machinery need an opening to allow cooling, so a high-quality vent or filter is necessary. It may be necessary to use materials, coatings, vent shapes, and vent sizes for proper operation. Tech Etch creates filters and vents out of different thicknesses of aluminum alloy. Tin, nickel, chem film, and other materials are among the options for our finishes. We create air filter solutions, EMI-shielded honeycomb, fan, and quiet vents. Products can be made with thicknesses of 1/4 inch. Tech Etch can create prototype vents or filters for your testing before going into full production, regardless of the specific requirements of your products.
Fabric-Over-Foam
Fabric-over-foam gaskets offer a compressible seal to help shield a device's critical components. A variety of fabric-over-foam products are produced by Tech Etch and can be tailored to a customer's requirements. To meet the requirements of the customer, we provide fabric over elastomer gaskets as strips with seven different profiles. Knife-edge, C-fold, dome, flat, D, rectangular, and square are a few examples of profiles. Our gaskets are RoHS compliant and have compression set values under 3%. Maximum EMI shielding is offered by our conductive foam gaskets for a variety of electronic devices. They have conductivity along the X, Y, and Z axes and, if necessary, pressure-sensitive conductive adhesive. The range of thicknesses is.059 inches to.134 inches.
Tech Etch collaborates with Heilind, our distribution partner, to ensure our fingerstock gaskets, vents, and fabric-over-foam, just a few of the options available, are always in stock! Visit our Heilind page so everything is available now. If your company is in the prototype stage of development, you can rely on Tech Etch to provide essential prototyping services to help prepare you for production. Contact Tech Etch and Heilind today if you need help finding a specific solution. Or reach out directly to Tech Etch's Innovation Center about taking your idea and getting it into production!