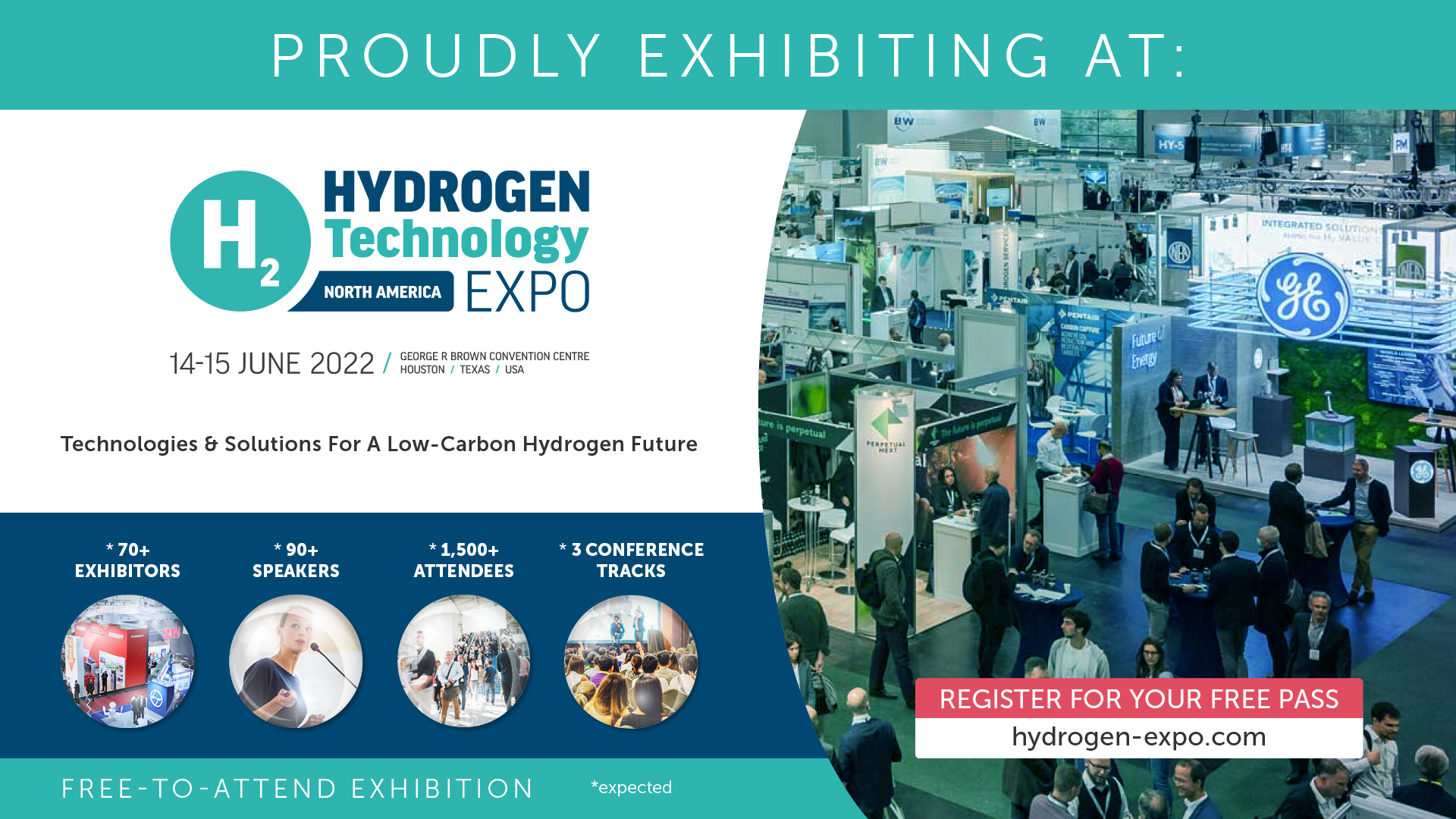 FOR IMMEDIATE RELEASE – Press Release
Plymouth, MA | June 13th, 2022 – Tech Etch has just announced its first-ever participation in North America's leading trade fair for Hydrogen & Fuel cell plates, the Hydrogen Technology Conference & Expo, June 2022 taking place in Houston, Texas, on June 14-15. The show is being sponsored by Texas Hydrogen Assoc (TXH2), Tenaris, Energy Industries Council (EIC), and tech giants like Microsoft.
The Hydrogen Technology Conference & Expo is North America's foremost tradeshow & convention dedicated solely to modern tech in the Hydrogen and fuel cell markets. The goal of the event is to bring the whole Hydrogen supply cycle all together to emphasize developing methods and insights toward low-carbon Hydrogen manufacturing, optimal storage and delivery, and usage in a variety of fixed and mobile applications.
Indeed, the market for Hydrogen Fuel Cells has broadened considerably in recent years. Due to low carbon emission movements and ever-rising global temperature, manufacturers are moving toward more sustainable and greener fuel sources. Almost every vehicle company is currently developing newer & greener models. Hydrogen is now more in demand than ever before and Tech Etch is offering solutions in this growing market.
The conference will hold 85+ exhibitors, 90+ speakers, and more than 1,500 attendees are about to gather at this expo and discuss the latest technologies and engineering solutions, manufacturing equipment, advanced materials, and infrastructure to establish hydrogen as a primary source of clean, renewable energy.
The Hydrogen Technology Conference will be a perfect platform for Tech Etch to explore hydrogen fuel cells' conceptual and engineering challenges and showcase their decades of expertise in producing precision etched parts for efficient fuel cells. Swing by booth 214 and learn about the latest solutions that Tech Etch has to offer in the Alternative Energy industry.
About Hydrogen Technology Conference & Expo
The concept of hydrogen as a clean and renewable energy source is nothing new. However, several technical and economic challenges need to be overcome before hydrogen can be fully realized as a significant contributor to reducing global carbon emissions. Hydrogen Technology Expo North America is a solutions-driven trade fair and conference dedicated to developing new technologies to overcome these technical challenges and propel hydrogen into the mainstream for stationary and mobile applications.
This expo brings together the whole hydrogen fuel cell distribution network to explore it all, from low-carbon hydrogen manufacturing technologies and solutions to efficient storage, transportation, and facilities, sophisticated design, experimenting, and development, manufacturing solutions, and advanced technologies.
About Tech Etch
Tech Etch has over five decades of experience and expertise specializing in manufacturing precision-engineered thin metal components, flexible printed circuits, and EMI/RFI shielding, across three locations in the United States (Plymouth, MA, Fall River, MA, and Litchfield, MN). Their commitment to excellence begins with their employee-owners who provide world-class services and innovative comprehensive solutions that enhance lives globally. Tech Etch partners with leading global customers in the aerospace, military, medical, telecommunication, and electronics industries that have highly complex precise designs and demanding regulatory requirements. Their solutions ensure unmatched precision, quality, and attention to detail in every project, every time.  Learn more about Tech Etch by visiting www.techetch.com.