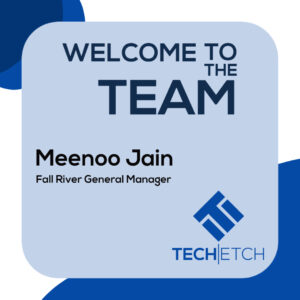 We are pleased to announce that on Thursday, April 28, Meenoo Jain joined Tech Etch as our next Fall River General Manager. Her responsibilities will include overseeing all aspects of Fall River Operations and working closely with functional leadership within the facility.
Meenoo has over 20 years of Manufacturing experience within the Engineering and Operations space ranging from General & Quality Management, Lean Manufacturing, Planning & Production to Contract & Deal Negotiation and Strategic Planning.
Meenoo was most recently employed at Quilling Card as General Manager, located in Framingham, MA, and prior to this position, she worked for Virginia Transformer Corporation as VP of Operations & Plant Manager.
In addition to leading the Fall River site, the expectation is that Meenoo will share and utilize her past Leadership experience to actively take part in various company projects and initiatives.
Meenoo holds an M.S. in Materials Science Engineering from the University of Cincinnati, and a B.S. in Mechanical Engineering, from the University of Michigan and holds a Six Sigma black belt designation. Meenoo resides in Newton with her husband.
Please join us in welcoming Meenoo to Tech Etch!