When you need gaskets with low compression force and excellent conductivity, look to Tech Etch and our 2700 series. These conductive foam gaskets consist of open-cell polyurethane foam with a nick-over-copper-plated polyester foam on either side. Woven on one side and non-woven on the other, our 2700 series gaskets.
Provide 94 V-rating and RoHS compliance
Offer a low compression set for long lasting results
Have durable woven fabric on one side and non-woven surface on the other
These gaskets are available in standard configurations as well as custom cuts. They're great for computer, router, and telecom I/O shielding and come in standard thicknesses of .040", .059", .087", and .134". We also manufacture standard D-connector gaskets out of our 2700 series.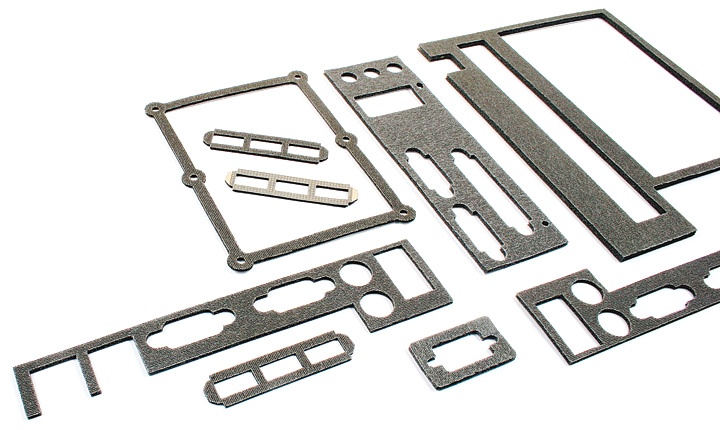 Specifications
Foam
Conductive Open-Celled Polyurethane Foam
Service Temperature
-40°F to 158°F (-40°C to 70°C)
Compression Deflection
2-3 psi @ 50% compression
Flammability Rating
UL 94 V-Rated
RoHS Compliant
Yes
Surface Resistivity
.03 – .05 Ohm/sq
Volume Resistivity
3.5 m Ohms
Tensile
6-15 kg/in
Shielding Effectiveness
dB @ 10 MHz 103 – 105
dB @ 100 MHz 98 – 132
dB @ 1 GHz 100 – 138
Standard 2700 Conductive Foam Gaskets Information
Standard D-Connector gaskets are also available made from EMI Shielding Conductive Foam.
See the chart below for Sequential Numbers for standard D-Connector Gasket sizes.
| Pins | A | B | C | D | E | F | Seq. Part No. |
| --- | --- | --- | --- | --- | --- | --- | --- |
| 9 | 1.313 | 0.98 | 0.78 | .44 | .750 | .07R. | 3009 |
| 15 | 1.641 | 1.31 | 1.11 | .44 | .759 | .07R. | 3015 |
| 25 | 2.188 | 1.85 | 1.65 | .44 | .750 | .07R. | 3025 |
| 37 | 2.829 | 2.50 | 2.29 | .44 | .750 | .07R. | 3037 |
| 50 | 2.740 | 2.41 | 2.11 | .55 | .880 | .07R. | 3050 |