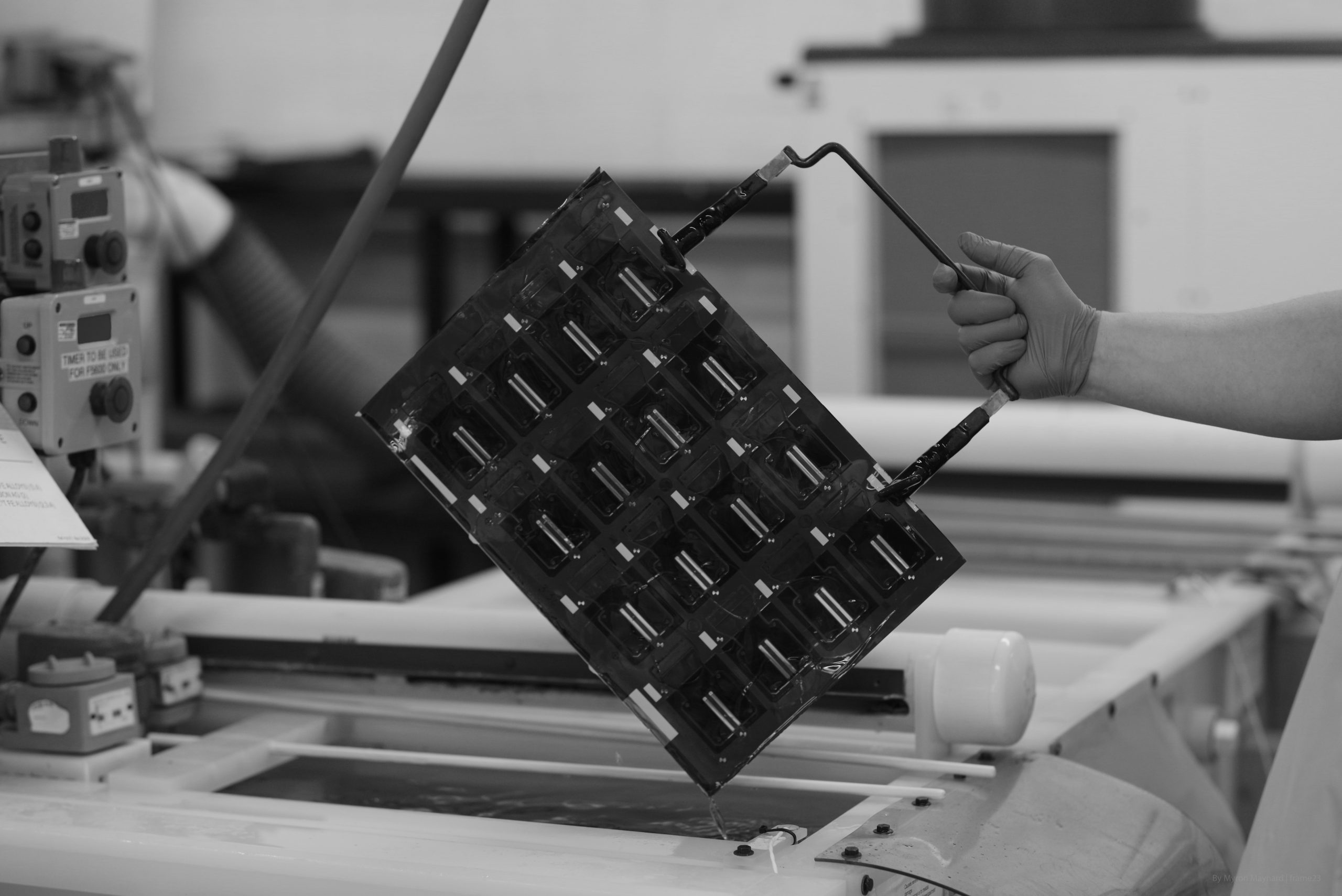 At Tech Etch, we offer precision polyimide etching for all types of electronic devices and products.
When it comes to economy of size and endless applications, few things beat polyimide film. This material can be cut into almost any configuration, including gaskets, screens, washers, insulation layers, and much more. Polyimide film is perfect for prototyping when developing a new product.  
At Tech Etch, we offer precision polyimide etching for all types of electronic devices and products. Our team has the tools and talents necessary to create the exact pieces that are needed to make a product work. 
How Polyimide film etching works 
Polyimide etching can be performed in a few different ways. Tech Etch offers a photolithography process for etching. This process is vastly more cost-effective and cleaner than laser ablating, a more common process. 
Polyimide etching is an inexpensive process because it doesn't require the development of complicated tools. The process can be done quickly, allowing for the creation of prototypes with a fast turnaround time compared to other methods.  
Prototypes made of this material can be perfected before moving into more complex and costly development of a product. Once the prototype is greenlit for production, Tech Etch can create the necessary tools to create the parts on a large scale. 
Our Materials 
We use Dupont KAPTON® polyimide film for our etching services. This material is available as thin as .001" and provides great protection in corrosive environments. It also offers great electrical, chemical, and physical properties, making it the perfect material for the widest range of applications. 
Advantages to Polyimide Etching 
Polyimide etching offers many different benefits. One of the main advantages is improved reliability for the circuits. The reduced number of interconnects help the circuits to be more dependable for the long haul. The flex attaches directly to the mating board/component, providing the simplest interconnect scheme possible. 
If space constraints are an issue, they won't be with this process. Our techniques offer the lowest profile interconnect between flex and substrates. This allows for a great economy of space within your device or product. 
Mating connectors and other connection elements raise the cost of production. Polyimide film etching eliminates these costs by eliminating these elements. With our etching system, parts can be connected much easier and within a much smaller space. 
If interconnect flexibility is important to your project, polyimide etching is the best option on the market. Removing the substrate gives the product designer more flexibility, allowing for direct access to the circuit leads. This access can be provided in a protected window or cantilevered from the edge of the part. 
Why prototype before moving into production? 
It may seem like a waste of time and money to create prototypes, but nothing could be further from the truth. Prototypes of a variety of parts can help a company see which parts need improvement. Prototyping also makes it easy to make changes before a business dedicates time and money to create the exact parts they'll use for their new product. Nobody wants to spend money on manufacturing only to discover that the parts need to be redesigned. 
Don't make the mistake of going right into production before getting prototypes of your product's parts. Make sure your new products have the right parts that will provide your customers with the dependability they need and expect. Talk to Tech Etch to discuss your need for prototyping today.