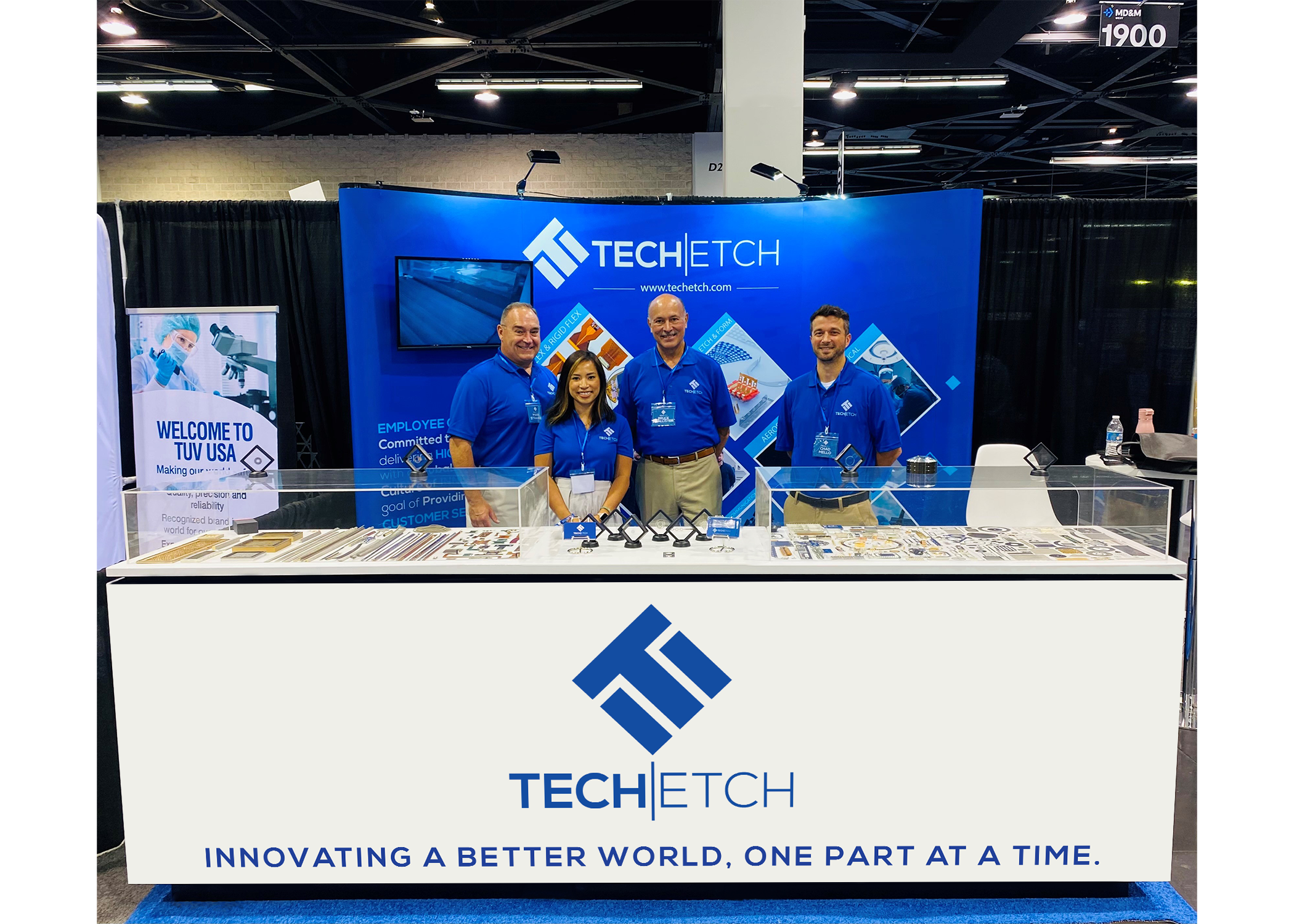 Tech Etch Is Ready to Hit the Show Floor Again
Tech Etch, a leader in the precision parts manufacturing space, is ready to get back to the tradeshow circuit in 2021. Company leaders are looking forward to meeting with past and future clients, as well as learning about their ever-changing industry.
Trade shows allow Tech Etch to show potential clients their products and services up close and personal. Attendees will be able to see the parts that the company can manufacture and discuss their business' specific needs. These events also allow everyone in attendance to stay up to date on the latest emerging technology that will influence the industry in the coming years.
Tech Etch has already exhibited at three major manufacturing shows in the coming months. BioMed Boston, a trade show for the medical industry, was held from September 21 – 22. Design-2-Part, a precision parts showcase, was held from September 29 – 30. MD&D West Anaheim, a medical trade show, was held from August 10 – 12.
Make sure to mark your calendar for early November to see Tech Etch in Minneapolis. We'll be exhibiting at MD&M Minneapolis, a medical trade show, which takes place from November 3 – 4.
BioMed Boston
BioMed Boston is a regional showcase of the latest technologies in the medical device field. Over 200 exhibits were available where attendees were able to connect with the leading medical device engineers and innovative thinkers. Over 1,500 visitors attended this year's event.
The BioMed Boston expo featured opportunities to network with other medical device companies and explore options for creating partnerships. The event also had many educational discussions, covering topics for startups, large companies, and everyone in between.
BioMed Boston was an in-person event this year and ran from September 21 and 22 at the Boston Convention & Exhibition Center.
Design-2-Part Marlborough
The New England Design-2-Part Show is a local manufacturing trade show in Marlborough, MA. The event showcased the latest in parts manufacturing technology and implementation. Businesses and consumers connected and discussed their needs, created partnerships, and developed solutions that work for both parties.
Many industries were served by the Design-2-Part show, including electronics, medical, aerospace, machinery, government, and more. Annual attendance ranges from 1,500 to 2,000 guests. Dozens of companies from all over New England were in attendance to showcase their solutions.
The New England Design-2-Part Show ran from September 29th to September 30th at the Royal Plaza Trade Center in Marlborough, MA.
MD&M West Anaheim
MD&M West Anaheim is an annual medical expo in Southern California. The show hosts 1,400+ exhibitors and 13,000+ attendees from the medical device industry. This year, the event was able to be hosted in person.
Attendees enjoyed being able to reconnect for the first time since the pandemic began in 2020. Visitors were able to connect with their fellow medical device professionals, continue their education in the field, and make deals for their companies.
MD&M West Anaheim was held at the Anaheim Convention Center from August 10-12.
MD&M Minneapolis
Mark your calendars now for MD&M Minneapolis, one of the biggest medical expo events in Minnesota! MD&M Minneapolis runs from November 3rd through November 4th at the Minneapolis Convention Center in Minneapolis, MN.
Leaders in the medical parts and devices field come together to share their knowledge, build relationships, and innovate for the future. Leaders in all areas of medical device development connect with one another to build the future of medical device manufacture.
Home of major names in the medical field such as the Mayo Clinic and United Health, Minnesota has become a popular destination for businesses that develop medical device parts and machines. MD&M Minneapolis brings together the brightest minds to one of the most medical-focused cities in the nation. 500+ exhibitors will connect with 4,500+ attendees and help improve the technology of healthcare through networking and educational sessions.
Tech Etch will be attending MD&M Minneapolis this year. Be sure to visit us at our exhibit!
Trade shows were few and far between in 2020, with many of them switching to an online format or being canceled. Companies around the country lost an opportunity to connect and share their knowledge with one another due to the COVID-19 pandemic.
As the pandemic has slowed, trade shows have made a comeback in 2021. Tech Etch and many other companies have enjoyed the opportunity to make new connections and showcase their work. Many shows have seen great turnouts and engaged attendees looking to expand their businesses.
Tech Etch specializes in the development and manufacturing of precision parts. Some of their products include EMI/RFI shields, flexible and rigid circuits, photo-etched parts, heat-treated parts, and more. The company provides precision parts to the military, medical, aerospace, and technology industries, providing solutions for companies around the world.
Since its founding in 1964 as a small engraving business, Tech Etch has grown by leaps and bounds. The company has acquired other organizations over the years and now has three large facilities throughout the United States.
Tech Etch's main hub of operations is a 150,000 square foot manufacturing facility in Plymouth, MA. They also operate another facility in Fall River, MA, along with a third location in Litchfield, MN.
The leaders of Tech Etch have enjoyed the chance to impress future clients and reconnect with old ones at this year's trade shows. The company looks forward to continuing to showcase its products and discuss the many ways that it can help other businesses grow and thrive in the future. Make sure to visit us at MD&M Minneapolis in November to learn more about what Tech Etch can do.