Flex and Rigid-Flex Circuits
Tech Etch has the tools and talents required to create highly reliable flex and ridged-flex circuits for a variety of uses. We can use most substrates and our advanced manufacturing process to create single and double-sided circuits, as well as multi-flex and ridged-flex circuits. We also offer SMT component assembly on these products.
Every circuit we produce is made to the specific needs of our clients. We've created parts for applications in the medical, manufacturing, industrial, and aerospace industries. Our 150,000 square foot facility in Massachusetts is the home of all of Tech Etch's operations. We're your go-to choice for all of your circuit development needs from prototype to full production.
Circuits for medical applications
Our flex and rigid-flex circuits are useful for medical devices, medical implants, diagnostic ultrasound equipment, telecommunication applications, and patient monitoring systems. Our manufacturing capabilities include:
Adhesive-free construction for thinner circuits
Additive processing for circuits of higher density. Our trace and space capabilities come down to .0015 inches.
Microvia sizes down to as little as .001 inches in diameter for high-density, 2-layer flex circuits.
Gold and tin-lead plating that enables multiple attachment methods.
Selective polyimide removal that allows cantilevered and windowed leads.
Use of beryllium copper, stainless steel, and cupronickel as an alternate for the circuit layer. This provides optimum performance in unique applications.
SMT and thru-hole assembly, with package sizes down to 0201 and .4mm pitch.
UL-recognized circuitry
Rigid-flex circuits that maximize 3D space and offer higher component density, as well as leadless SMT packages.
Rigid-flex circuits made of laminate materials with high Tg and Td values for circuits that have to handle high thermal loads.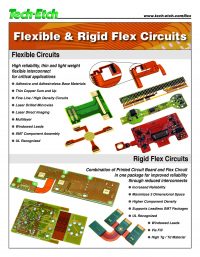 Click to download Flex & Rigid Flex Brochure includes circuit layer and coverlayer design guidelines for both flex and rigid-flex circuits, as well as technical drawings and capabilities for both. Rigid-flex combination of circuit board and flexible circuit provides improved reliability through reduced interconnects.
Do you need prototypes quickly?
If so, please see our Innovation Center