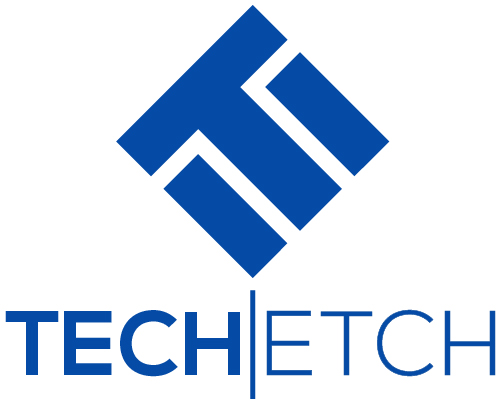 Precision Parts Manufacturer Advances Image to Meet Technology Needs of a Modern World
Plymouth, MA | Jan. 26th, 2021 –Tech Etch, a trusted provider of critical components for our world's most advanced military, medical and aerospace industries, announces the unveiling of their new brand identity. After being in business for 50+ years, Tech Etch proves they too can advance as technology evolves and our modern world changes. The rebrand marks a new chapter and a step forward in being an industry leader as Tech Etch strengthens their visibility.
Designed to work effortlessly across digital and physical channels, the rebranding includes a top-to-bottom redesign of the company's logo, website and communications. The newly redesigned website features easy-to-navigate pages while providing a seamless user experience and better highlights the full suite of services Tech Etch offers.
"We have exciting growth and new initiatives and needed a brand that was progressive and reflective of our innovation, energy and approachability," said Vice President of Marketing Mark Strangie. "While our name remains the same (hyphen removed), our logo and website have changed significantly to better represent who Tech Etch is and what we plan to provide for our community," said Strangie.
A pristine and powerful diamond shaped blue logo symbolizes the precision and interconnectivity of Tech Etch products. While representing strength and authority, the icon reflects the future of technology but still recognizes the Tech Etch brand, reinforcing their unwavering commitment and assurance to the partnerships they hold and the industries they serve.  The new mission statement "to inspire, create and provide innovative solutions that enhance lives globally" and tagline, "innovating a better world, one part at a time" further enforces this message.
For the company this means that all customers can expect employee owners that are empowered to better serve them, quality products using high – grade material and uniquely engineered manufacturing processes, a culture of innovation invested in cutting edge technologies, a forward-thinking workforce, and a commitment to exceed partner expectations in their quality, service, and communication.
As Tech Etch enters a new season, a branding refresh is the first step in marking their new chapter. Implementing their new brand signifies Tech Etch's professionalism, purpose, and stability, all while maintaining their dependability and binding trust from the world's most well-respected leaders in the medical, military and aerospace industries.
ABOUT TECH ETCH
Founded in 1964, Tech Etch is proud to have over 700 Employee Owners across three locations in Plymouth, MA, Fall River, MA, and Litchfield, MN. We value and promote our Employee Stock Ownership Plan (ESOP) culture with a strong focus on employee recognition, community involvement, and continuous improvement.
Tech Etch provides innovative solutions that enhance lives globally. We do so by developing meaningful, long- term partnerships between our employee-owners and the industry leaders we serve and by ensuring unmatched precision, quality and attention to detail in every product, every time. We partner with leading global companies that have highly complex products and demanding regulatory requirements.
For more information, please visit www.techetch.com and connect with us on LinkedIn, Facebook, and Instagram.