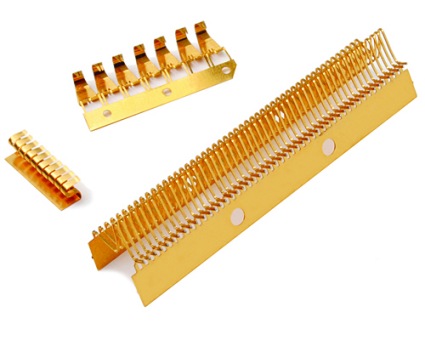 Capabilities
Tech Etch manufactures a wide variety of lightweight metal parts as small as .0005" in thickness. We use a photo etching process that allows us to create intricate and detailed pieces that can't be made with other processes. This saves on the cost of hard tooling, improves design flexibility, and speeds up production.
We're setting the industry standard for the manufacturing of filters, lead frames, springs, covers, heat sinks, shutter blades, plates, shims, and other essential EMI shielding products.
We combine photo etching with hard tooling to create intricate and detailed metal parts for every application. This allows us to create burr-free parts at a reasonable cost. It also makes it easy to prove your design before creating high quantities of the parts you need.
Our in-house plating and mechanical finishing provides a wide variety of finishes. We offer gold, nickel, electroless nickel, copper, tin, and tin-lead plating, along with solder hot oil reflow. We also offer electropolishing, surface polishing, and vibratory tumbling to ensure a perfect finish. Our masking skills can be used for selective plating, as well.
Tech Etch's laser cutting department can handle any cutting you need performed. From thin materials to thick materials, our 2.5 KW Mitsubishi CO2 Pulse Laser can handle it all. With a high-peak pulse feature, the device can provide dross-free cutting on metals from copper to brass to aluminum and others. Our laser cutting and etching tools also make it possible for us to cut grooves or pockets that only extend partly through the metal.
If you need your metal etched in any way, we can handle the job. We often provide etching services for medical tools and implants. Our process can handle the etching of titanium, tungsten, nitinol, Elgiloy™, molybdenum, copper alloys, stainless steels, aluminum, nickel, and more.
Do you need prototypes quickly?
If so, please see our Innovation Center